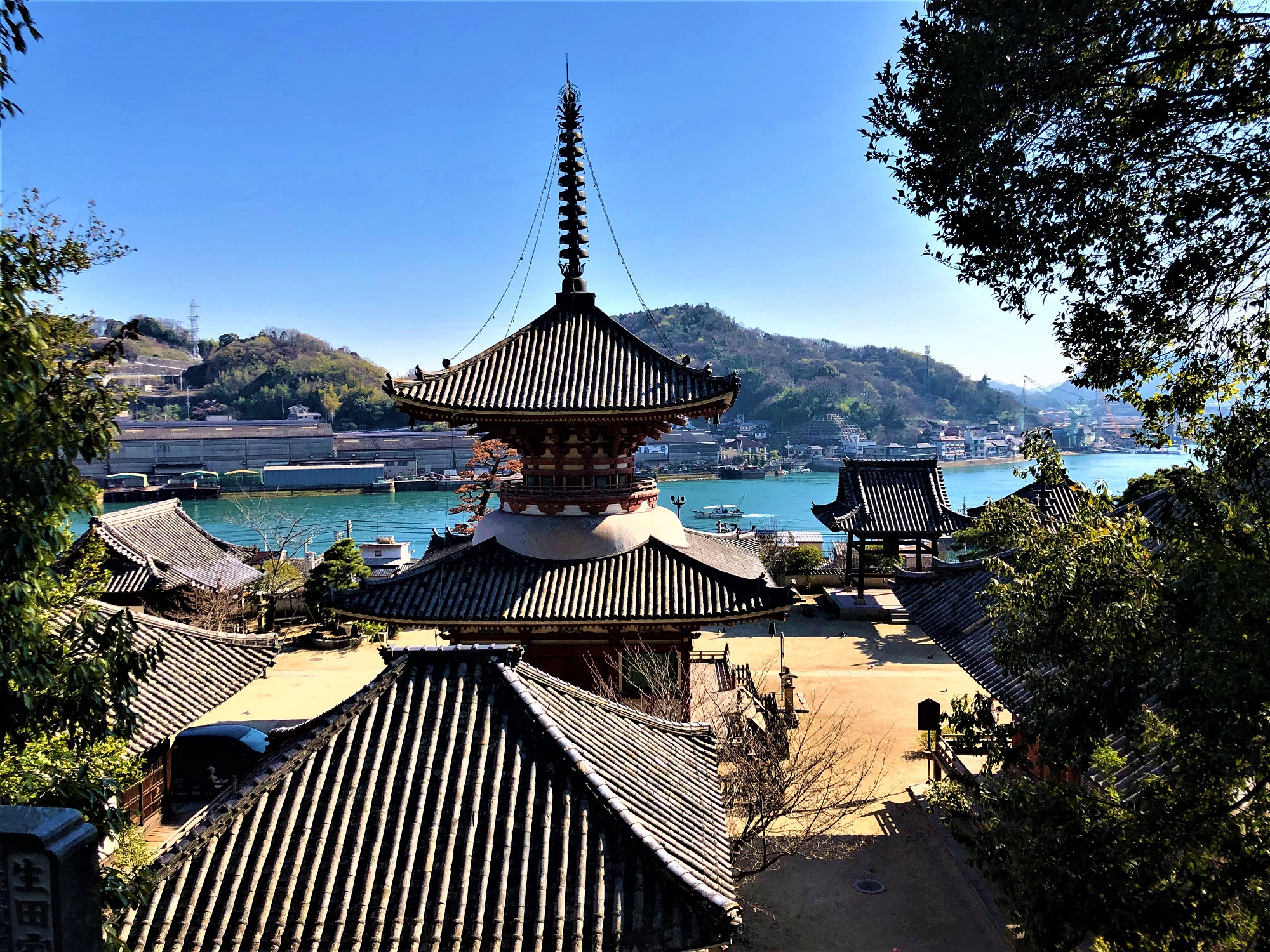 ©Sira E.Goodman
The hillsides of Onomichi are home to several temples and shrines, but none more eclectic than Jodoji Temple. Said to have been founded in 616 by the semi-legendary Prince Shotoku, Jodoji Temple has become a collection of valuable historical buildings.
After the old temple buildings burned down in 1325, Onomichi residents, including a wealthy merchant, helped to rebuild Jodoji Temple. In 1327, carpenters Fujiwara Tomokuni and Fujiwara Kunisada finished the new hondo, or main hall, which still stands today, and is designated a National Treasure. The architectural style of the hondo is eclectic. Primarily built in the design common in the Heian period (794–1185), it also shows the influence of architectural styles brought from China in the Kamakura period (1185–1333).
Jodoji Temple is home to another National Treasure as well. The tahoto (many-jeweled pagoda) was built in 1329 and is considered one of the three best examples of tahoto in Japan. Although pagodas are found in temples throughout Asia, two-story tahoto are unique to Japan, and were once common in Esoteric Buddhist temples like Jodoji.
Most other buildings in Jodoji Temple's compact compound are designated Important Cultural Properties of Japan, including the impressive sanmon (front gate), the Rotekian (a tea house), and the Amidado (Amida Buddha hall). With so many fascinating buildings to see, visitors could be forgiven for forgetting to enjoy the sweeping view over Onomichi from the sanmon.
尾道的山中有数座神社庙宇,其中净土寺在多元素融合方面堪称一绝。据传,净土寺由半传说式的人物圣德太子建于616年,众多具有重要历史价值的建筑云集于此。夜晚时分,从岛波海道可眺望华灯笼罩下的净土寺靓影,在小津安二郎(1903-1963)执导的电影《东京物语》中也有出镜,是尾道不可或缺的一隅。
原建筑于1325年被烧毁后,以富商为首的尾道民众共同致力于净土寺的重建。新本堂于1327年由木匠藤原友国和藤原国贞建成,伫立至今,并被指定为国宝。新本堂采用折衷样式建造,虽以平安时代(794-1185)常见风格为主,却也能明显感受到镰仓时代(1185-1333)中国建筑风格对其产生的影响。
净土寺的另一国宝即多宝塔(意为"满载宝物之塔")。多宝塔建于1329年,被视为日本三大多宝塔之一。塔在亚洲各地的寺院虽较为常见,但二层结构的设计则是日本特有,曾多见于净土寺等密宗寺院。
净土寺玲珑雅致,整然的寺内几乎所有建筑均被指定为日本的"重要文化财",包括令人印象深刻的山门(正门)、露滴庵(茶室)、阿弥陀堂(阿弥陀佛堂)等。引人入胜的建筑比比皆是,即便忘记从山门一览尾道远景,也理应情有可原。
'Sanmon / Main gate' of Jodoji Temple / Photo/©Sira E.Goodman

'Hondo' of Jodoji Temple built in 1327 / Photo/©Sira E.Goodman

'Tahoto' of Jodoji Temple built in 1328 / Photo/©Sira E.Goodman

'Amidado' of Jodoji Temple built in 1345 / Photo/©Sira E.Goodman

The view from 'Sanmon' of Jodoji Temple / Photo/©Sira E.Goodman

The stairs lead to Jodoji Temple / Photo/©Sira E.Goodman
DATA
20-28, Higashi Kubo-cho, Onomichi, Hiroshima
℡+81-848-37-2361
25 mins from Onomichi Station on foot
Free car parking is available.
http://www.ermjp.com/j/temple/ (Japanese only)