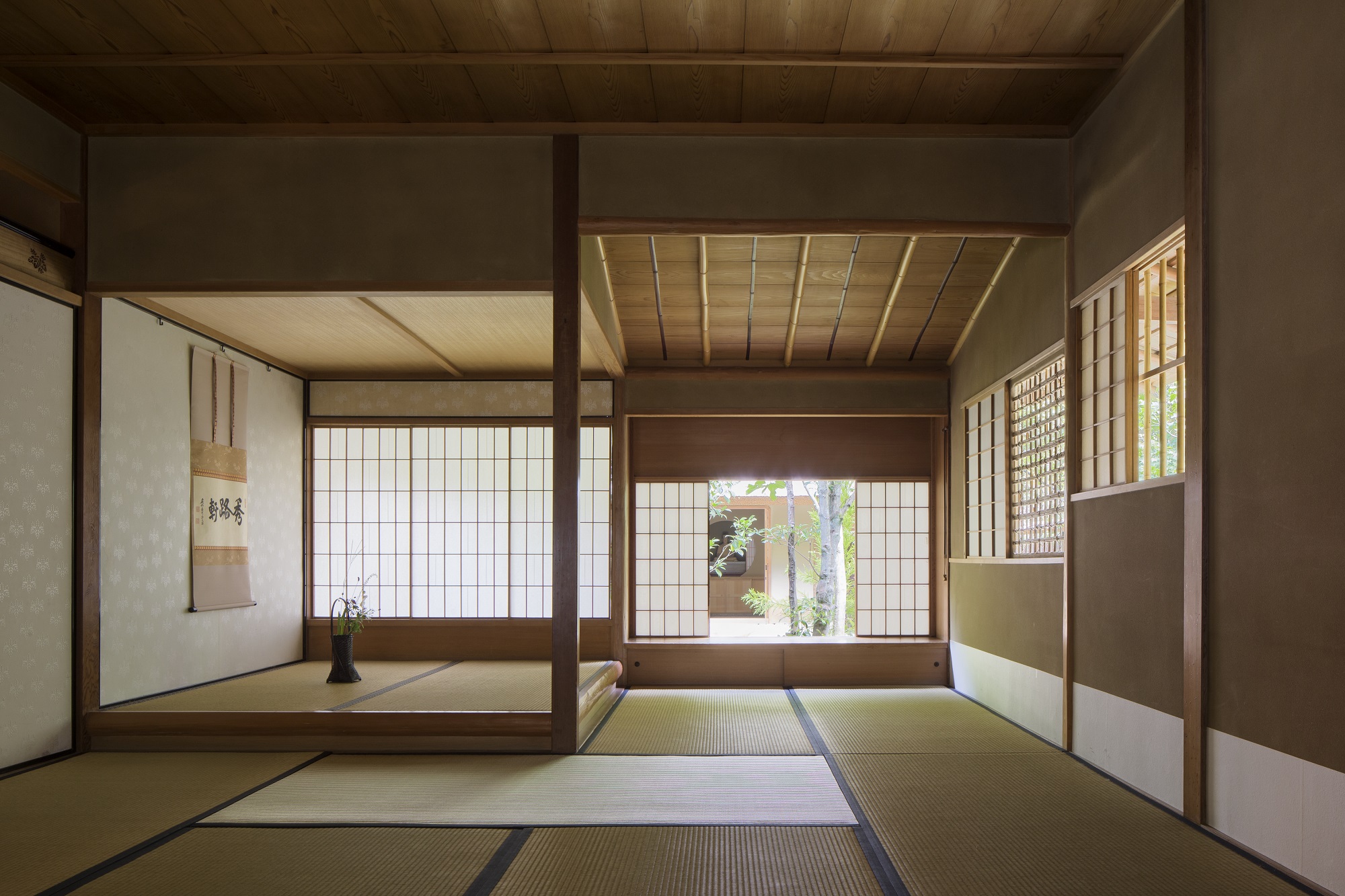 Photo/Shinshoji Temple
Shinshoji Temple: Shuroken  神胜禅寺 秀路轩
1973
The Shuroken tea house is a perfect example of the blend of old and new buildings to be found at Shinshoji Temple. Designed by architect and expert on tea house design Nakamura Masao, the Shuroken is a detailed recreation of the Zangetsutei drawing room and the Fushin'an teahouse in Kyoto, both destroyed by fire in 1788. Working from old drawings and descriptions, Nakamura faithfully recreated both structures in the Shuroken.
Both the Zangetsutei and Fushin'an were prominent examples of buildings of the Omotesenke school of Japanese tea ceremony, and were closely associated with tea master Sen no Rikyu (1522–1591). Like the Shuroken, the Fushin'an was a soan (thatched hut) style teahouse, designed to bring calm and a sense of peace to all who entered, using muted colors and plain, unadorned materials. The Zangetsutei was itself a replica of the Irotsuke Kokonoma Shoin, the drawing room at Rikyu's own residence, where he served the feudal lord Toyotomi Hideyoshi (1537–1598).
In fact, Hideyoshi's influence extends all the way through history into the design of the small raised platform in one corner of the Shuroken. Rikyu's drawing room had a smaller platform for Hideyoshi to sit on when he visited, but after he complained it was too small, Rikyu enlarged the platform to the size of two tatami mats, and the Shuroken follows this updated design.
The Shuroken is open to visitors and hosts paid Japanese matcha tea ceremonies daily.
神胜寺新旧建筑交织,其中茶室"秀路轩"由茶室设计专家兼建筑师中村昌生(1927-2018)操刀设计,如实复原了1788年毁于大火的残月亭会客室及不審庵茶室。中村根据旧图纸及相关说明记载,将二者的构造忠实地再现于秀路轩,可谓巨细无遗。
残月亭及不審庵均是日本茶道流派表千家的著名茶室,与茶道宗师千利休(1522-1591)渊源深厚。正如秀路轩所再现出的气质,草庵风茶室不審庵色调沉稳、质朴无华,给来访者带来宁静祥和的心情。残月亭则代表着千利休于自家宅邸招待大名丰臣秀吉(1537-1598)时所用的会客室"色付九间书院"。
纵然历史漫漫,沧海桑田,秀路轩一角窄小的上段构造却仍体现着丰臣秀吉留下的印记。千利休宅邸的会客室上段原本比秀路轩的更窄,坐在室内的丰臣秀吉不满于空间狭小,于是千利休将其扩大到两张榻榻米的大小。秀路轩所沿袭的正是这扩修后的构造。
秀路轩日常面向公众开放,有偿供应抹茶。
The exterior of 'Shuroken / tea house ' in Shinshoji Temple / Photo/Shinshoji Temple

'Shuroken' in Shinshoji Temple / Photo/Shinshoji Temple

The entrabce of 'Shuroken' in Shinshoji Temple / Photo/Shinshoji Temple

'Rikyudo' in Shinshoji Temple / Photo/Shinshoji Temple
DATA
Kamisanna 91, Numakuma-cho, Fukuyama,Hiroshima
℡+81-84-988-1111 (Temple Office)
Admission fee for Shinshoji Temple: JPY1,200
Admission time of Shuroken : 9:00〜16:00
Matcha tea set with sweets : JPY800
About 30 mins from Fukuyama Station by car