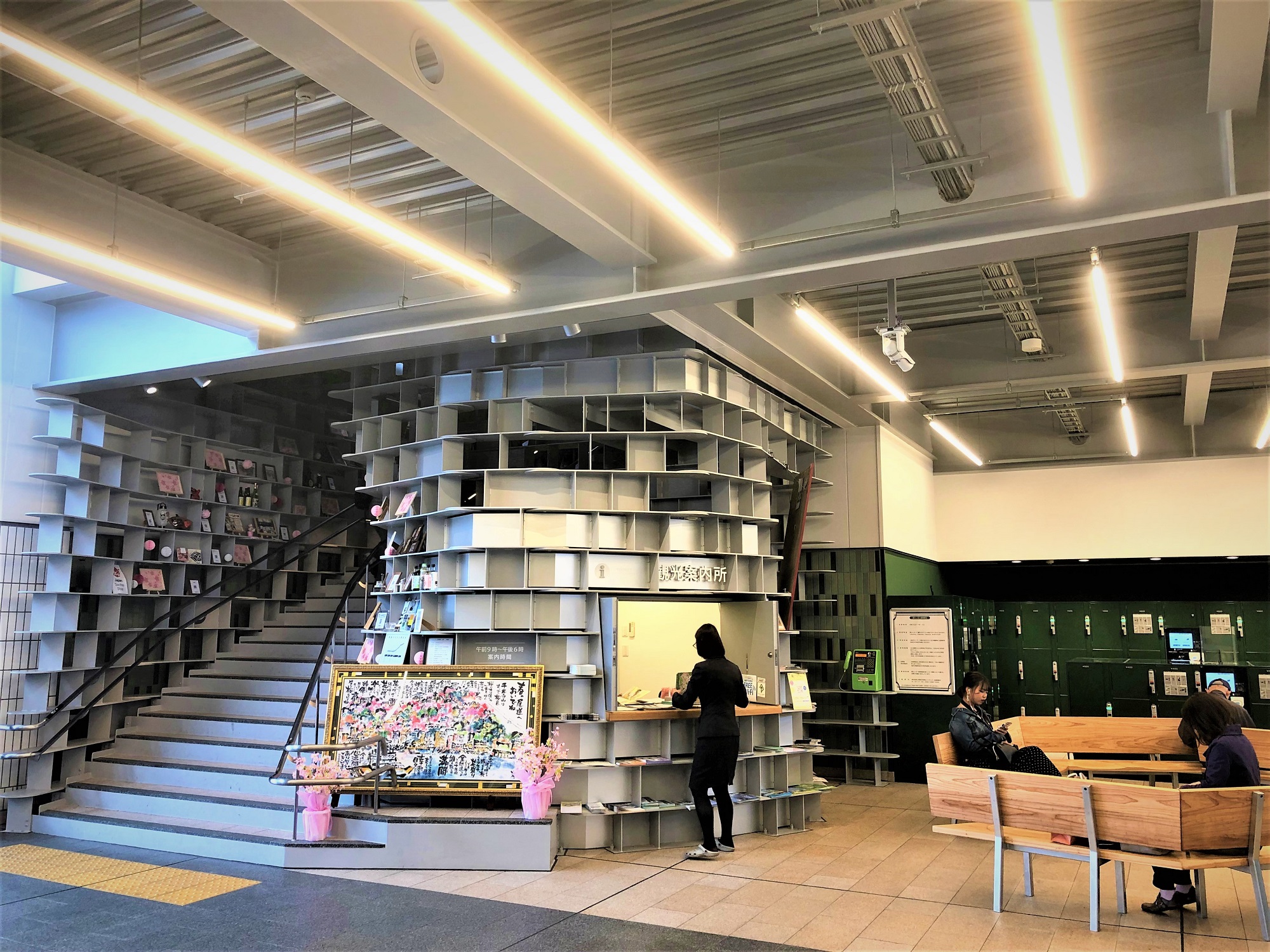 ©SETOUCHI | ARCHI-TOURISM
Onomichi Station JR尾道站
2019
by Atelier BOW-WOW/Yoshiharu TSUKAMOTO + Momoyo KAIJIMA+ Yoichi TAMAI
The new Onomichi Station, opened in 2019, is both the ideal gateway to the city and a distillation of the whole Seto Inland Sea region. Located roughly in the center of town, the station is unmissable no matter how visitors first arrive. The extra wide main entrance is more than just a boon for busy commuters rushing to their trains. It also frames one's first view of Onomichi—the station plaza with its old-fashioned street lamps leading directly to the Onomichi Channel and the islands beyond—like a postcard one can walk through.
The scale and shape of the long, low building is a deliberate counterpoint to the tall hotels and offices nearby. Rather than draw the eye straight upwards, Onomichi Station's slanted roof with its low eaves invites viewers to cast their eyes across the station plaza, then up towards the hill behind the station. From the outside, the building is almost like a ramp connecting the Onomichi Channel and the plaza to the peak above.
Construction of the new station building took about two years, and the design was supervised by Tokyo-based architecture firm Atelier Bow-Wow. Although the building is new, the station has a long history, which is reflected in its new design. The distinctive roof shape is based on the roof of the original station, built during the Taisho era (1912–1926). Beams from the old station serve as tables and chairs for the book lounge.
Onomichi Station is designed to be a destination for tourists and local residents alike.  Unlike other train stations, Onomichi Station turns waiting for a train into an experience to look forward to.
濑户内铁道之旅别具一格,不仅可透过车窗悠然眺望大海涌流的景色,还能一窥与海共生的人们的日常生活。从尾道站下车走出检票口,尾道水道的景色便在眼前铺陈开来。中央通道、车站、站前广场以及尾道水道连为一体,使得尾道的独特风景,更加贴合这一作为旅途初始地的港口城市。如今大部分车站都以高架式呈现,而尾道站却特意重建于地面,以供人们欣赏此般美景。
为与尾道的街景相协调,车站建筑在设计上有意压低屋檐高度,使其与周边大量设施对比成趣,进而将人们的视线引向背后的山上。这一设计方案由Atelier Bow-Wow提出,灵感则来源于大正时代初代车站的屋顶。深檐邀人入内,透明玻璃墙则使得各设施更具辨识度。二层的展望台面向公众开放,由此可一览尾道水道之景。
抵达之时有大海相迎,离开之时可越过屋顶,回望山丘;缓坡之上,小镇的种种再次浮现于眼前……尾道站以新旧共存为目标,颇具尾道风情,生动展现着港口小镇尾道的独特魅力。
The exterior of Onomichi Station / Photo/©SETOUCHI | ARCHI-TOURISM

The exterior of Onomichi Station / Photo/©SETOUCHI | ARCHI-TOURISM

The view from Onomichi Station / Photo/©SETOUCHI | ARCHI-TOURISM

The interior of Onomichi Station / Photo/©SETOUCHI | ARCHI-TOURISM

The exterior of Onomichi Station / Photo/©SETOUCHI | ARCHI-TOURISM

The rooftop of Onomichi Station / Photo/©SETOUCHI | ARCHI-TOURISM

The whole exterior of Onomichi Station / Photo/©SETOUCHI | ARCHI-TOURISM

The whole exterior of Onomichi Station / Photo/©SETOUCHI | ARCHI-TOURISM
DATA
1-1, Higashi Gosho-cho, Onomichi-shi, Hiroshima
℡+81-848-29-9330(㎥ HOSTEL)
JR Onomichi Station
https://onoeki.jp/  (Japanese only)
㎥ HOSTEL
ONOMARU SHOUTEN