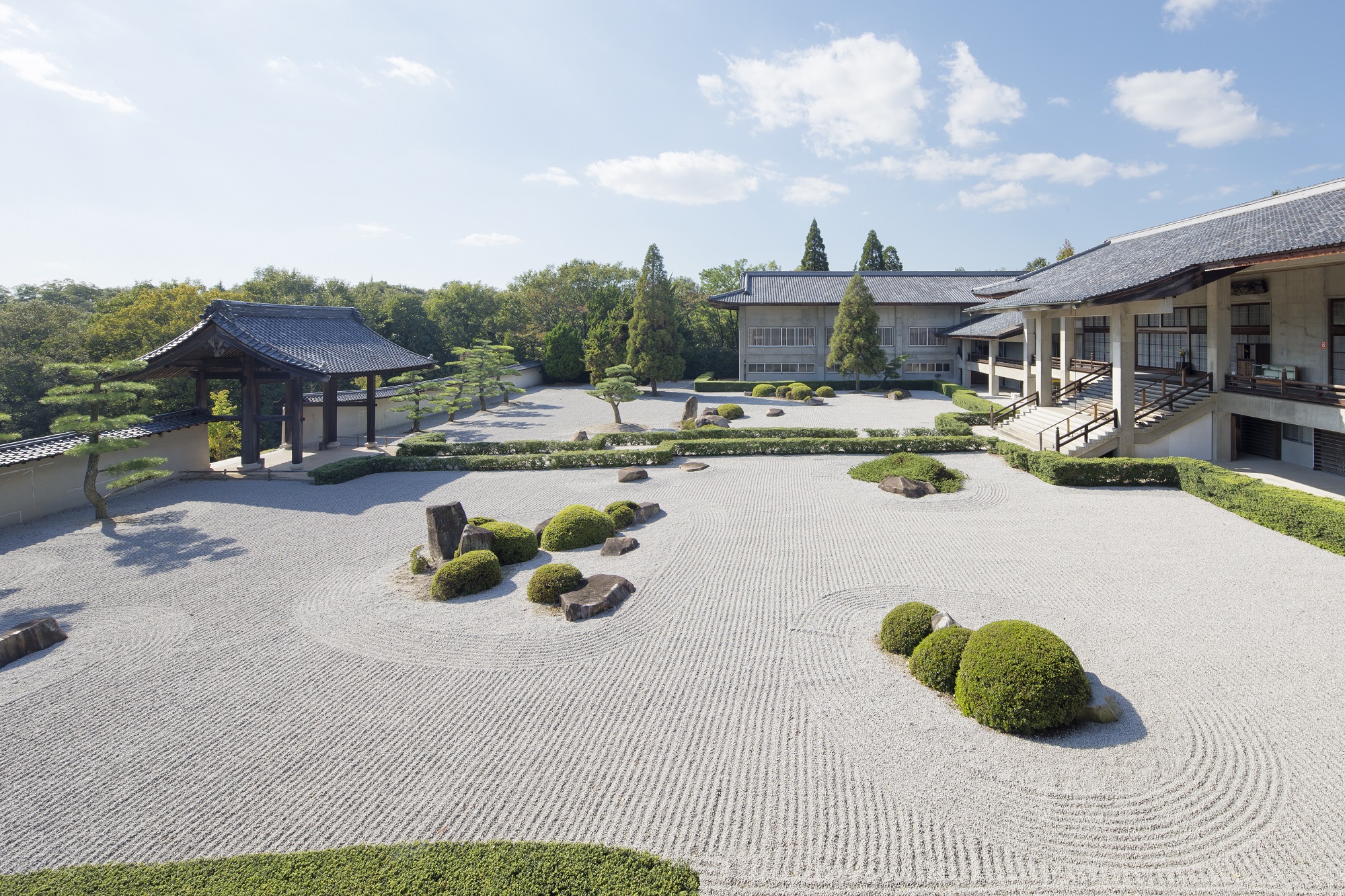 Photo/Shinshoji Temple
A visitor walking through the ancient-looking buildings and extensive gardens of Shinshoji Temple would be tempted to think the temple had been there for hundreds of years. In fact, Shinshoji Temple is a more recent addition to the Fukuyama mountainside. It was founded in 1965 by Kambara Hideo (1916–1977), the owner of a local shipbuilding business, as a burial place for the victims of maritime accidents.
Today, Shinshoji Temple serves a dual purpose. Firstly, as a functioning temple of the Rinzai school of Buddhism, and secondly as the Shinshoji Zen Museum and Gardens. The museum's goal is for visitors to learn about Zen Buddhism first-hand, through optional activities like meditation, copying sutras, taking part in a tea ceremony, and tasting food made for monks.
Visitors who want to enjoy the architecture are welcome, too, and there is no shortage of fascinating buildings to see. Despite its relatively short history, the Shinshoji Temple complex contains a mix of historical and modern buildings.
The main gate, made from Japanese zelkova wood, dates back to the Edo period (1600–1868) and previously served as the entrance to the Kaya no Miya residence on the Imperial Palace grounds in Kyoto. Kambara had the gate moved when Shinshoji Temple was built.
Beyond the gate is the Shinshoji Temple garden. Designed by noted Japanese garden landscaping firm Nakane and Associates, the garden has a central pond and spring with a path surrounding it, making this a chisen kaiyu, or 'stroll garden around a pond'.
Dotted throughout the complex are other buildings, both historic and modern, including the Shodo (Pine Hall, the temple office designed by Fujimori Terunobu) the Shuroken (tea house), bathhouse, Zen dojo, and the ship-like KOHTEI pavilion, which houses an art installation by Nawa Kohei.
地处福山山间的神胜寺,坐拥古色古香的建筑和开阔的庭园,乍看之下,仿佛已走过数百年历史,实则不然。1965年,当地一造船公司持有者神原秀夫(1916-1977)主持修建了这座寺庙,以缅怀、超度海难者。
神胜寺如今有两个身份:一是禅宗临济宗的寺院,二是"神胜寺 禅宗庭园博物馆"。该馆旨在通过冥想、抄经、茶道、禅僧饮食等方式,让到访者轻松学习佛教禅宗教义。
神胜寺建筑众多,座座魅力独特,各异其趣,是欣赏建筑之美的绝佳之地。寺院历史虽不久远,却在现代建筑中也不乏历史悠久的建筑,二者相辅相成,交相辉映。
榉树打造的正门历史悠久,可追溯至江户时代(1600-1867),它原本是京都御苑旧贺阳宫宅邸的入口,在神胜寺修建过程中被神原迁至此地。
一穿过正门,开阔的庭园便呈现眼前。它由日本庭园设计界鼎鼎有名的中根庭园研究所设计,中央设有池塘,沿池铺设小路,池泉结合,构成回游式庭园。
除此之外,寺院内还散落着"松堂"(藤森照信设计的寺院办公处)、"秀路轩"(茶室)、入浴设施、禅道场,以及"洸庭"等新旧建筑。其中的"洸庭"是一座船形展示馆,内部收藏有雕塑家名和晃平的艺术装置作品。
'Somon / Main gate' of Shinshoji Temple / Photo/Shinshoji Temple

'Gankuin' of Shinshoji Temple / Photo/Shinshoji Temple

The inside of 'Gankuin' in Shinshoji Temple / Photo/Shinshoji Temple

Garden of Shinshoji Temple / Photo/Shinshoji Temple

Gargen of Shinshoji Temple / Photo/Shinshoji Temple

'Yokushitsu / Bath-house' of Shinshoji Temple / Photo/Shinshoji Temple
DATA
Kamisanna 91, Numakuma-cho, Fukuyama,Hiroshima
℡+81-84-988-1111 (Temple Office)
Admission time: 9:00〜16:30(closed at 17:00)
Admission fee: JPY1,200
About 30 mins from Fukuyama Station by car